Won Top 3 Patent Attorneys in Sacramento Four Consecutive Years!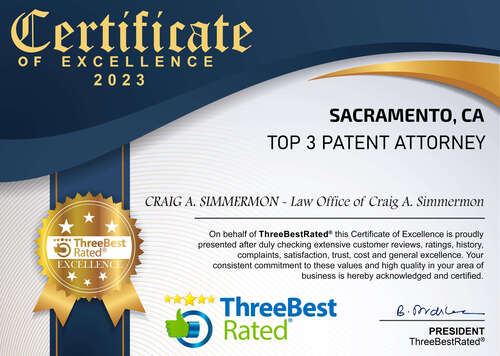 Don't trust just any patent attorney to protect your intellectual property!

You need it done right the first time because you only get one opportunity to file your patent application if you start selling right away. If the wrong application is filed, you lose money and you may even lose the patent all together. Further, Attorney Simmermon can actually improve your invention by using his expertise to properly and optimally characterize and define your invention in the patent application. Don't risk filing a low quality patent application like most patent applications being filed today.

Firstly, Mr. Simmermon is highly technical with multiple physics degrees and multiple engineering degrees. Secondly, Mr. Simmermon has an MBA and decades of business experience, dealing with a multitude of products, technologies, and businesses, including various plastics technologies and manufacturing technologies. He uses this wide range of knowledge and experience to determine the most important aspects of your invention and business that can translate into intellectual property rights and commercial value. Mr. Simmermon then uses expert knowledge of intellectual property law to implement these strategies by securing high quality patents, trademarks, and copyrights. The Law Office of Craig A. Simmermon helps bridge the gap between the spark of innovation and the realization of commercial value. Established in 2008.

Attorney Simmermon is a sole practitioner, so all interaction is with the attorney himself.

Attorney Simmermon is one of the few intellectual property attorneys that stands behind his patents, trademarks, and copyrights 'from the cradle to the grave'. Firstly, Attorney Simmermon drafts high-quality patent, trademark, and copyright applications that quickly pass examination to yield strong intellectual property protection rights. Secondly, Attorney Simmermon files and wins infringement law suits to hold infringers responsible for their misconduct. Of course, these services are additional to patent prosecution services and are billed at an hourly rate. Few patent attorneys offer the full spectrum of legal services to protect 'from the cradle to the grave'.


The First Step

The first step is to call
Craig A. Simmermon
at
916.878.6656
to arrange a one-hour initial consultation for a $250 fee. Sorry, no free consultations. At the initial consultation, we will discuss your intellectual property issue and answer your questions. Mr. Simmermon will investigate your idea or invention and provide an expert opinion on patentability and how to proceed with securing your intellectual property rights, if appropriate. There are flat fees to draft and file patent, trademark, and copyright applications. Litigation rates are $250 per hour.


Offices in Sacramento, Roseville, and Folsom

There are multiple office locations to serve you. The
Sacramento Office
is located at: 500 Capitol Mall, Suite 2350, Sacramento, CA 95814. The
Roseville Office
is located at: 3017 Douglas Boulevard, Suite 300, Roseville, California, 95661. The
Folsom Office
is located at:
1024 Iron Point Road, Folsom, California, 95630
.
House-Calls
: Mr. Simmermon makes house-calls on business clients within a reasonable distance of the Sacramento Metropolitan Area. Mr. Simmermon conducts
Patent Law Information Sessions
for companies who need questions answered about the complex field of patent law. Mr. Simmermon meets with clients on an appointment-only basis.


Browse the Web site for more information about the Law Office of Craig A. Simmermon. If you have any questions, please e-mail
Simmermon Law
or call at
916.878.6656
.


The Law Office of Craig A. Simmermon